Meet the Doctor
Dr. Landin's Biography
Dr. Dana Landin became a chiropractor after the passing of his fourth and youngest child in 1994. He was a full-time associate pastor to youth and families but after that traumatic event, he returned to school to learn as much as he could about the health sciences. Dr. Landin has a Bachelor of Science degree in Human Biology and a professional degree in Chiropractic. He began his chiropractic studies in the general, diversified field of chiropractic but was introduced to the Gonstead specialty of chiropractic in 1999. The Gonstead analysis of the spine and nervous system and then the art of adjusting the spine in a specific and thorough manner is his preferred method of chiropractic. Dr. Landin uses a meter of thermography on the spine during his analysis and he references x-rays before any adjustment is performed.
Dr. Landin embraces and teaches on the healing potential of chiropractic healthcare. Technically speaking, chiropractic doesn't heal, the body heals. Chiropractic care promotes the healing potential by freeing up the nervous system from interference caused by structural misalignments and other imposing structures (inflammation, muscle hypertonicity, disc bulges, etc.). The nervous system, once free from interference, can begin the restoration of health by returning vitality to the cells, tissues and organs of the body. The chiropractic adjustment performed carefully and correctly can also assist in improving structural integrity to the skeletal frame restoring segmental motion and improving muscle symmetry, tone and elasticity. Many do not realize that the central nervous system communicates with all the other organ systems of the body.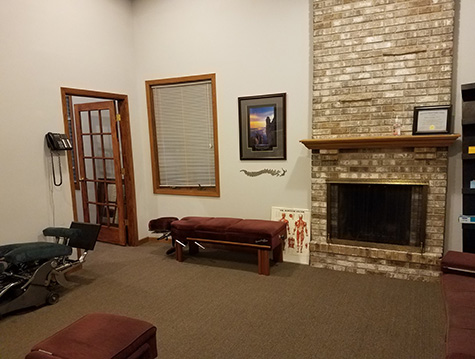 Dr. Landin grew up in Ohio and has four brothers. The Landin brothers have dabbled in vocal and instrumental music over the years. In fact, they sang the national anthem at a Cleveland Indians/Boston Red Sox baseball game in Cleveland, Ohio some years ago. Dr. Landin and his wife enjoy traveling, bow hunting and motorcycle riding. Their children and grandchildren live in the Midwest and eastern United States, so they travel to see family often. Dr. Landin taught his sons to hunt years ago and to this day they still enjoy hunting trips together. He began officiating weddings in 1988 and continues to do so to this day.
In addition to practicing the Gonstead method of chiropractic, Dr. Landin is a seasoned public speaker and lectures to local businesses, associations and churches. He speaks on a variety of health-related issues including how chiropractic helps the body stay young and healthy. In years past he has been the host of his own local public television show, "A Natural Approach to Health" and the host of a radio show, "A New Way To Be You". He has been an Anatomy/Physiology instructor for massage therapy schools.Call the office today at 224-856-5617 or email the office at office@chirolandin.com. Dr. Landin can help you.